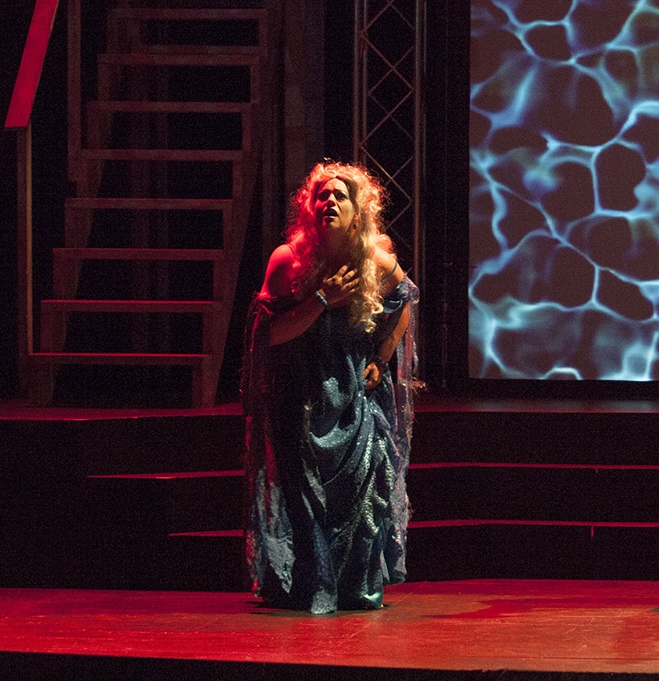 Das Rheingold - Union Avenue Opera
"The women in this cast are mostly very strong singers and actors. [...] Elizabeth Beers Kataria, Megan Hart, and Katja Heuzeroth harmonize beautifully as the Rheinmaidens."
Reviewed for 88.1, KDHX.org by Chuck Lavazzi
"Elizabeth Beers Kataria, Megan Hart and Katja Heuzeroth get the opera started in fine fashion as the Rhinemaidens."
Reviewed for Laudue News by Mark Bretz
Suor Angelica - Chelsea Opera
"Because "Suor Angelica" is essentially a work for three vocalists and a chorus, the opera demands an extraordinary amount of talent from its principals, and the singers saddled with bringing Angelica, Zia and Genovieffa to life during the Sunday matinee did not disappoint. Soprano Elizabeth Beers Kataria in the title role has the most difficult task of the three; she is on stage for the entire opera, and must run the entire gamut of emotions in a little under an hour. Kataria ought to have quite a career before her, for she negotiated the twists and turns in Angelica's character without a hitch, changing from feigned cheerfulness to fevered hope to fearful anxiety without difficulty, and culminating in a shattering performance of the pivotal "Senza Mamma" which she traversed with an ease that belied its difficulty, reducing several members of the audience members to tears in the process."
Reviewed by Lou Santacroce, former producer and host of National Public Radio's "At the Opera."

Passion, Power and Politics - Concert with the Chautauqua Symphony Orchestra
"Elizabeth Beers-Kataria has a clear, pleasingly columnar dramatic soprano that showed admirable evenness in testing ensembles from Fidelio and Norma. In the Consul's "To this we've come," her more refulgent toned reading made an interesting contrast to [...] Chautauqua Opera's production. Beers-Kataria has the vocal goods and becoming dignity; ..."
Reviewed for the Chautauquan Daily by David Shengold.
The Consul - Chautauqua Opera
"All the young artists skillfully portray older ages, no mean feat. [...]. Tenor Joseph Haughton (Nika Magadoff) and dramatic soprano Elizabeth Beers-Kataria (Foreign Woman) carry off their roles with good voices and aplomb their characters ..."
Reviewed for Opera News by David Shengold (10/9 issue)